This simple 5-day vegan meal prep is both easy and affordable! With just one day dedicated to simple prepping, you can have breakfast, lunch, dinner, and snacks prepared for the week ahead.
Veganism often gets a bad reputation for being an expensive, complicated diet to follow. Like most rumours, there is a kernel of truth to it: When you first go vegan, the waters can be hard to navigate, and you might find yourself easily swayed to buy vegan versions of your old favourites. Too quickly can a simple trip to the shop turn into a spending spree — let me tell you, vegan cheeses aren't cheap.
But the good news is, it doesn't have to be like this. By planning, and making super delicious dishes without any "fancy vegan" ingredients, it's possible to enjoy simple, satisfying, and inexpensive dishes all week long.
Because I'm all too familiar with the inadvertent spending I do when I shop without a plan, I created this five-day meal prep to help me spend more consciously while still making delicious vegan meals. Best of all, this meal prep only requires you to batch cook the foods once, and then you'll be set with delicious food for the entire working week.
I've kept things fairly basic with this meal plan, but if you want to add more spices/ herbs to your cooking — by all means, go for it! My key aim in creating this meal prep plan was to make veganism more accessible, and highlight how easy eating healthy can be. Whether you use this guide to inspire your week of meals or follow it to a T, I hope that everyone can some value from it.
How to Make Vegan Eating Cheap
To gauge how much this five-day vegan meal prep would cost, I added all the necessary ingredients to an online cart at Woolworth's. All things considered, the total came out to just under $50 AUD, which I think is great for five days' worth of food!
If you think about what you'd spend on takeaway, you'd be lucky to get one meal for less than $10, much less one entire day of eating.
Of course, to keep this meal plan cheap, sacrifices had to be made. Where I'd usually add more herbs and spices to my cooking, this grocery list stuck to the basics. Along the way, I learned a few tips for keeping vegan eating budget-friendly, including:
Stock up on grains like rice, oats, and bread
Use canned/ frozen vegetables where possible to keep the expenses low
Shop for seasonal fruits and vegetables to save money on produce
Only buy what you need to keep costs low and reduce wastage (for example, buy the exact amount of carrots you need rather than an entire pack)
How to Make This Meal Plan Work For You
Because I crafted this meal plan to fit with my lifestyle, the foods and flavours are ones that I enjoy! If you spot a vegetable or spice you hate in one of the dishes, feel free to swap it out for one that you know you like.
I want this experience to be enjoyable for everyone, so do what you need to do to make sure that you like what you're cooking. After all, the best way to end up spending more is making food you don't like, so it's important to taste the recipes as you go and tweak them as necessary to suit your tastes.
On top of that, I think it bears mentioning that while this meal plan provides a solid base for each day of eating, you may need to eat more to satisfy your needs. When I followed this meal plan, there were days when I was completely satisfied, and other days where I felt I needed a little bit more to keep me full.
If you're ever feeling hungry or deprived, please listen to your hunger and eat another snack or two to keep you well-fuelled. Additionally, many of these dishes can be easily expanded. For example, you may want to bulk up the pasta salad by buying two packs of pasta instead of one. You might want to add an extra can of beans to the chili, or maybe even top it off with some fresh avocado.
The possibilities are endless, but the important thing is that you eat in a way that fuels and serves your body. We're all unique, so while this meal prep works for me, stay in tune with yourself and add or subtract where needed. YOU know what your body needs way more than any meal prep plan can tell you.
The Meals
While it might not be the most exciting thing in the world, the meals do stay the same throughout the entire five days. Let me know if you prefer more variety, and I'll try to add more options to my next meal prep plan. To keep things a little bit interesting, I like to swap the lunches and dinners. Adding extra spices before eating these dishes is also a great way to change the flavour a bit and keep it interesting throughout the week.
For this meal prep, you'll be enjoying the following meals:
Breakfast: Overnight Oats
Snack 1: Pear (or other fruit of choice)
Lunch: Pasta Salad
Snack 2: Peanut Butter Toast
Dinner: Chili with Brown Rice
Meals
Breakfast: Meal Prep Overnight Oats
These meal prep overnight oats are the perfect make-ahead breakfast. This recipe makes five servings, so you can make them on Sunday, and have breakfast sorted for the entire week ahead. They may sound basic, but they're so delicious. Feel free to add any spices or extra fruits you would like.
Snack 1: Fruit
I listed a pear as the suggested snack 1, but any fruit will do. If you're trying to be money-savvy, choose a fruit that's in season and on special. I find that the basics (pears, apples, oranges) are often the cheapest options. Pick one that you like, and feel free to mix it up throughout the week or add an extra fruit if you need it.
Lunch: 15-Minute Easy Meal Prep Pasta Salad (Vegan)
This easy meal prep pasta salad is so good. It's highly customisable, studded with healthy veggies, and so easy to make! I also love this as a picnic or barbecue-friendly dish to share with a large group.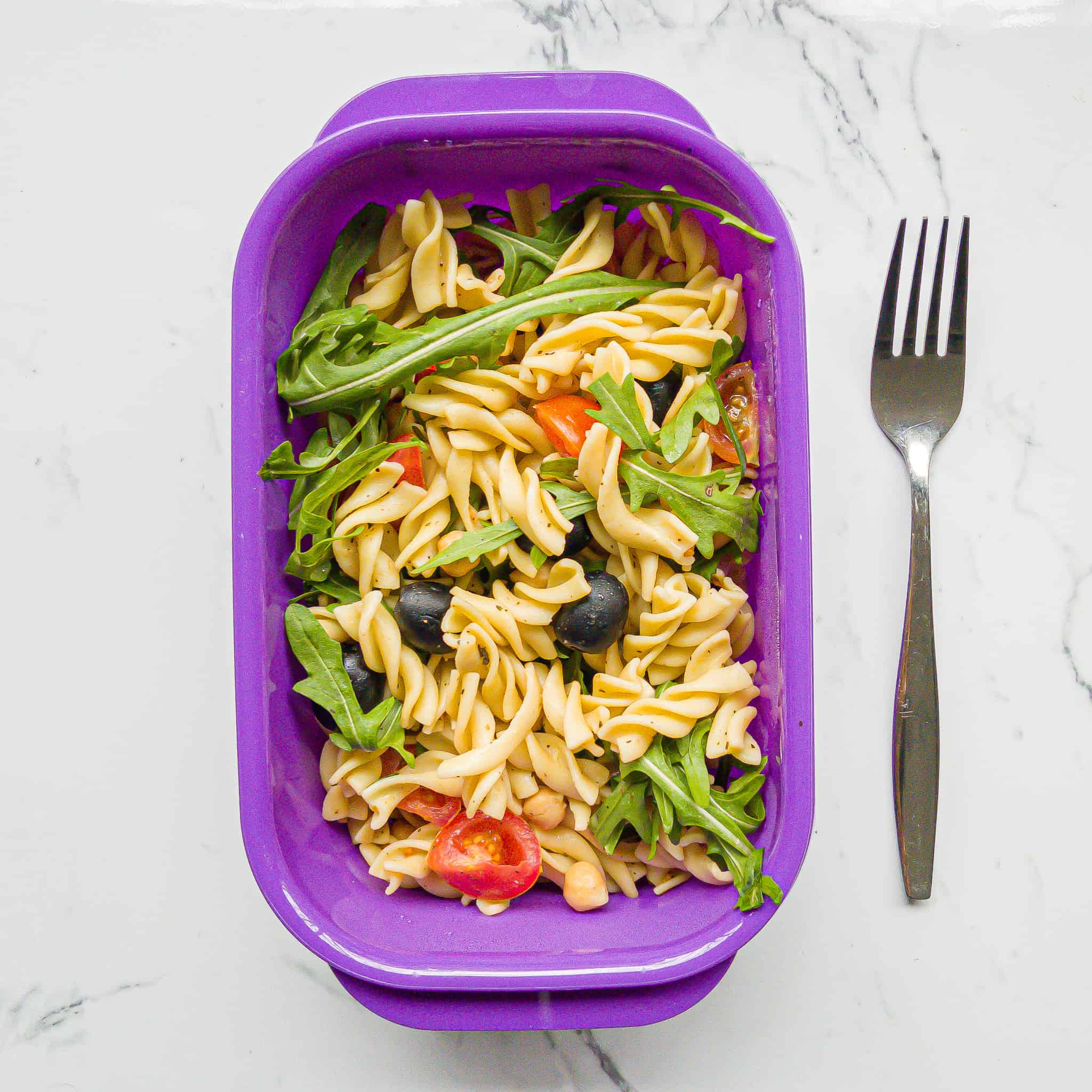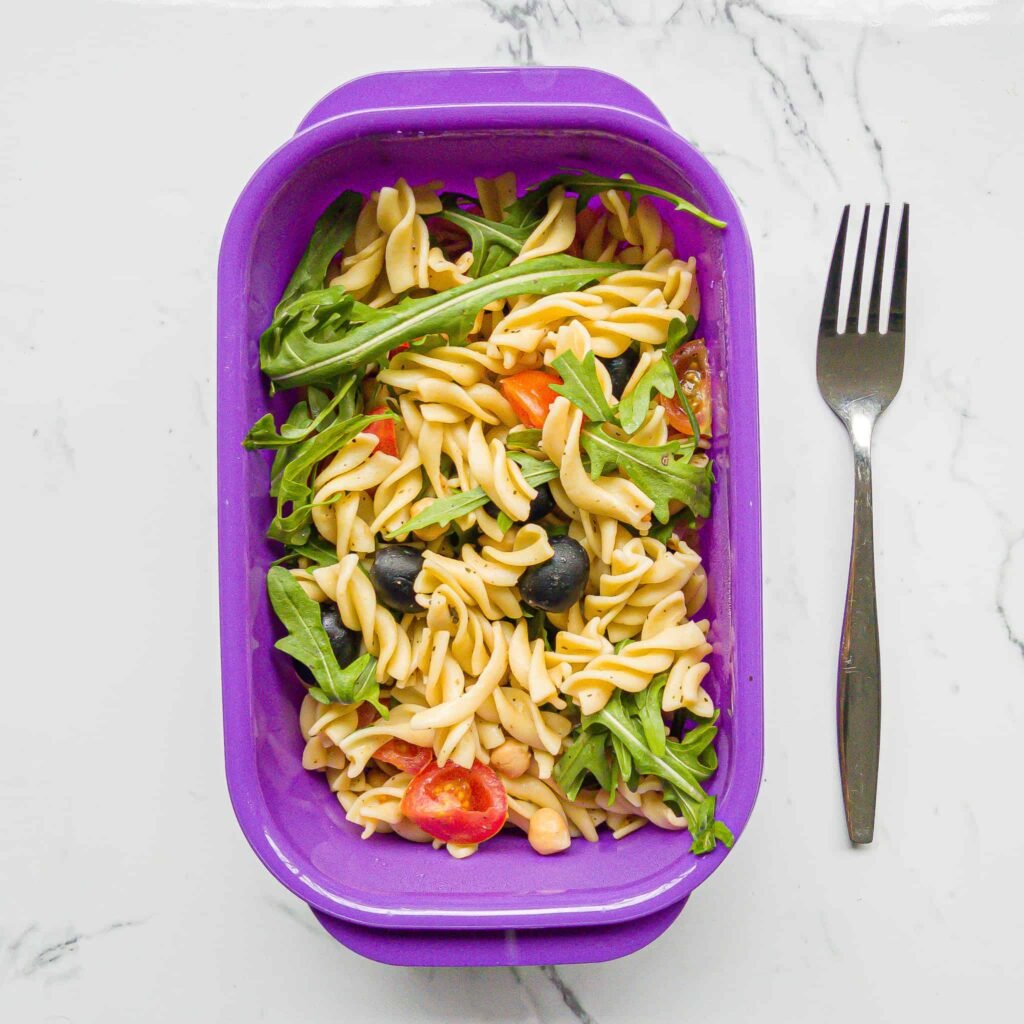 Snack 2: Peanut Butter Toast
I love peanut butter, and I love bread. If you're worried about getting enough protein as a vegan, there are plenty of high-protein bread options you can choose from to bolster your intake with this simple snack. I love Burgen Bread's Soy & Linseed, but no matter what you choose, just make sure you check the ingredients for milk solids (if vegan). If you hate peanut butter, feel free to swap it out for another spread like hummus, vegemite, or even mashed banana.
Dinner: Meal Prep Vegan Chili
This meal prep vegan chili is a Mexican-inspired stew, which makes an amazing dinner served alongside brown rice. Feel free to mix and match the vegetables to your delight. If you like it a little spicier, add a few chilli flakes or a dash of cayenne.
Grocery List
If you want a straightforward grocery list to help you shop for this meal prep, open this image in a new tab, and print or screenshot it.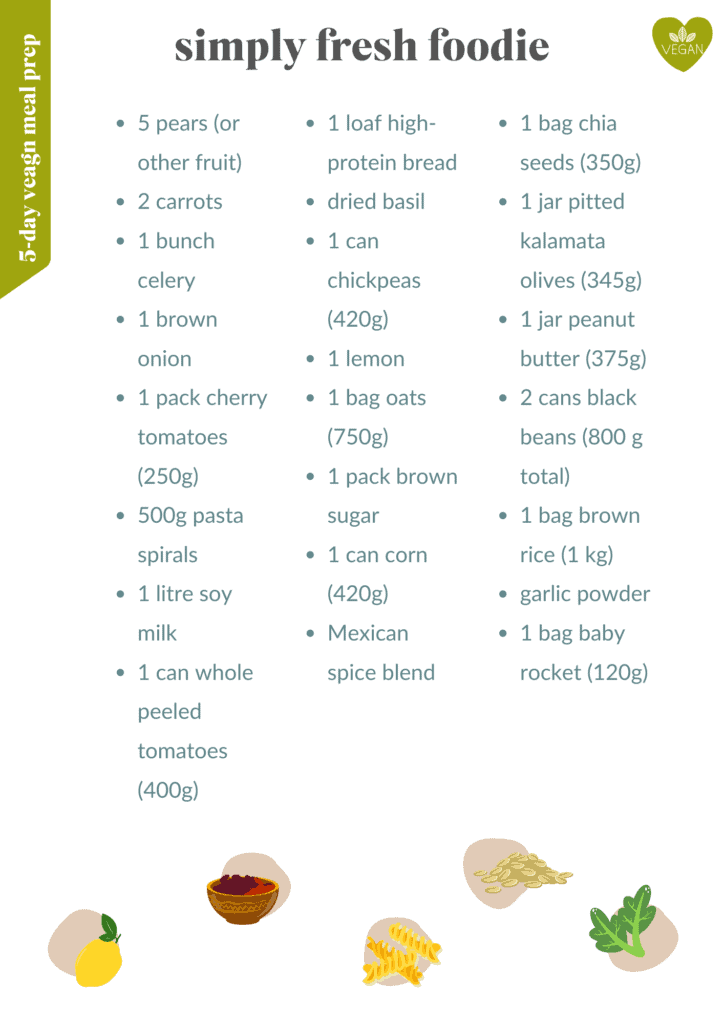 Have any questions? Ask away in the comments below! If you have other meal-prep recipes you'd like to see let me know, so I can incorporate them into future meal prep plans.