Learn about eight surprising health benefits of coriander and find out how to incorporate this superfood into your daily diet.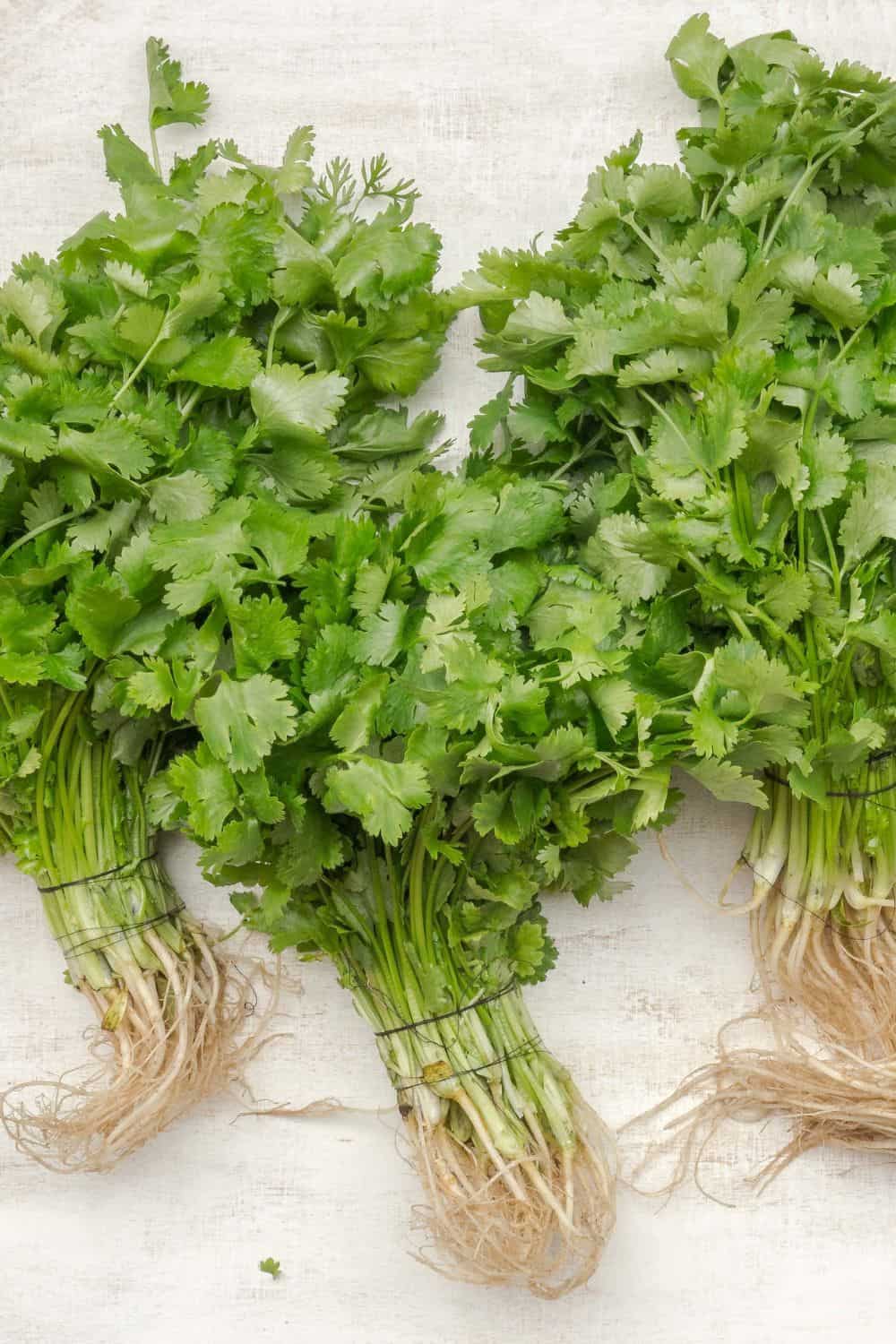 When we think coriander, we typically think of the bright, tasty herb that elevates our favourite meals. However, coriander provides far more than a little extra flavour. In fact, this leafy green is a nutritious powerhouse that can boost your overall health when consumed regularly. Known for its anti-inflammatory properties, abilities as an antifungal agent, detoxifying properties and nutritional content (containing vitamin K and C) coriander can provide many health benefits.
Used in traditional medicines in different parts of the world, this unique herb is believed to have numerous health benefits. And whether you're a proponent of herbal medicine or not, the nutritional value and dietary fibre found in fresh coriander leaves will give you even more of a reason to make taco night at yours a regular occurrence. 
Read on to discover the different ways coriander can improve your health.
Warning: This information is for general purposes only and should not be taken as medical advice. Before using fresh coriander, coriander powder, coriander juice or coriander water for medicinal purposes, be sure to talk to your doctor about its potential benefits and risks. Always start slow to avoid any sudden allergic reactions and carefully consider other medications you might already be taking. For example, ingesting too much coriander alongside diabetes medication can lower blood sugar to dangerous levels and should thus be avoided as an herbal medicine for individuals already taking medication. 
Health Benefits of Coriander
1. Boosts the immune system
Coriander (called cilantro in the United States) is chock-full of Vitamin C, which can boost your immune system and keep you from falling prey to the dreaded common cold. Vitamin C encourages the production of white blood cells, which help the human body fight off infections. It contains powerful antioxidants that can prevent cellular damage caused by free radicals, which are harmful molecules that can lead to serious illnesses. This property of the herb suggests that it might be useful in reducing the risk of heart disease and cancer. 
2. Can protect and promote healthy vision
Coriander is also rich in Vitamin A, which supports the function of the cornea and membrane by ensuring the eyes stay moist and protected. Vitamin A also aids in the manufacture of rhodopsin, a pigment which allows us see in low-light environments. 
3. Promotes healthy skin
If you're looking for natural ways to address skin issues, look no further than coriander. Since it's anti-inflammatory and vitamin-rich, it can help you achieve beautiful, glowing skin on a budget. Whether you struggle with acne or oily skin, extreme dryness, or troublesome skin conditions, such as eczema or other rashes, coriander can help by detoxifying and rejuvenating the skin surface with vitamins and minerals. 
4. Benefits heart health
As discussed, coriander can combat oxidative stress, which makes it extremely beneficial for our heart health. In addition to fighting harmful free radicals, coriander also acts as a diuretic, meaning it helps rid the body of excess sodium and water. In turn, this can combat high blood pressure, thus lowering the risk of heart attacks and strokes. It can also lower cholesterol, helping prevent plaque from building up around the arteries.
5. Can aid in digestion
Coriander also contains compounds that stimulate enzyme activity to improve function in the digestive system. This helps to prevent uncomfortable bloating, water retention, nausea, and stomach discomfort. It is thought to be an effective natural remedy for those experiencing IBS (irritable bowel syndrome) or other mild digestive issues. 
6. Improves kidney function
Because of coriander's diuretic properties and detoxifying qualities, it can also help improve kidney function. It naturally helps the body flush out excess sodium and water to keep the urinary system working effectively and prevent urinary tract infections. 
7. Promotes strong bones
Another beneficial substance found in coriander is calcium, a mineral that is associated with strong bones and teeth. Calcium also aids the nervous system and contributes to muscle function, making it an essential part of the human diet. Coriander is a great calcium-rich option for plant-based eaters, as it is often to thought to be only found in dairy products.  
8. Reduces blood sugar
Coriander is also known to be an effective natural substance that can help combat high blood sugar. Coriander activates certain enzymes responsible for processing glucose, which lowers the levels of sugar in the blood. This can help reduce the risk of Type 2 diabetes and hyperglycaemia.
How to Incorporate Coriander Into Your Daily Routine
As you can see, coriander is a superfood that is well-worth incorporating into your daily routine. Luckily, it is as delicious as it is nutritious, meaning you shouldn't have a hard time finding fun ways to consume this bright and flavourful herb. Here are some of our favourite ways to enjoy coriander.
As a topping on your favourite dishes: 
From pasta to burrito bowls to curries, coriander adds a fresh flavour to nearly any dish. One of the easiest and most versatile ways to consume this herb is to simply use the leaves of coriander to finish your favourite meals. Keep a coriander plant on your kitchen counter and add a few snips to your finished meals for an extra boost of flavour and nutrition. 
Incorporated into a sauce or dip:
Another genius way to get your greens in is to incorporate it into a zesty sauce or dip. You can make zhoug (an herbaceous condiment, originating in the Middle East) by blending coriander, jalapeños, garlic, spices and olive oil together. Or, you can prepare a delicious Argentine chimichurri by combining finely chopped coriander, parsley, onions, olive oil, and vinegar. Indian recipes often incorporate coriander seeds for added depth and flavour. And finally, what's a guacamole without a healthy dose of added coriander? There are many ways you can use coriander while cooking to reap the positive effects.
Blended into smoothies:
If you're someone who doesn't like the taste of coriander but would still love to reap the benefits of it, you can also add a handful of coriander to your morning smoothie or juice. When combined with other fruits or nut butters, you won't even be able to detect the taste. Try blending up a smoothie with frozen mango, a banana, a handful of spinach, coconut water and a few coriander leaves for a tropical breakfast that will keep you energised all morning long.
Applied topically in an oil:
Another option for those who aren't big fans of coriander's taste is to purchase coriander seed essential oil. Essential oils are highly concentrated oils which be applied directly to the skin (diluted), dropped into bathwater, or added to a diffuser to help you enjoy the benefits of this superfood without ingesting it.
Mix a drop of coriander oil with a carrier oil like almond oil or jojoba oil, then apply to your face to help reduce fine lines, prevent acne, and brighten dark spots with ease.
Sources: 
Want more? Now that you know about coriander, discover the benefits of dandelion tea!