These Biscoff overnight oats with a Biscoff shell are the perfect easy breakfast. They're healthy, high protein, vegan, and most of all delicious!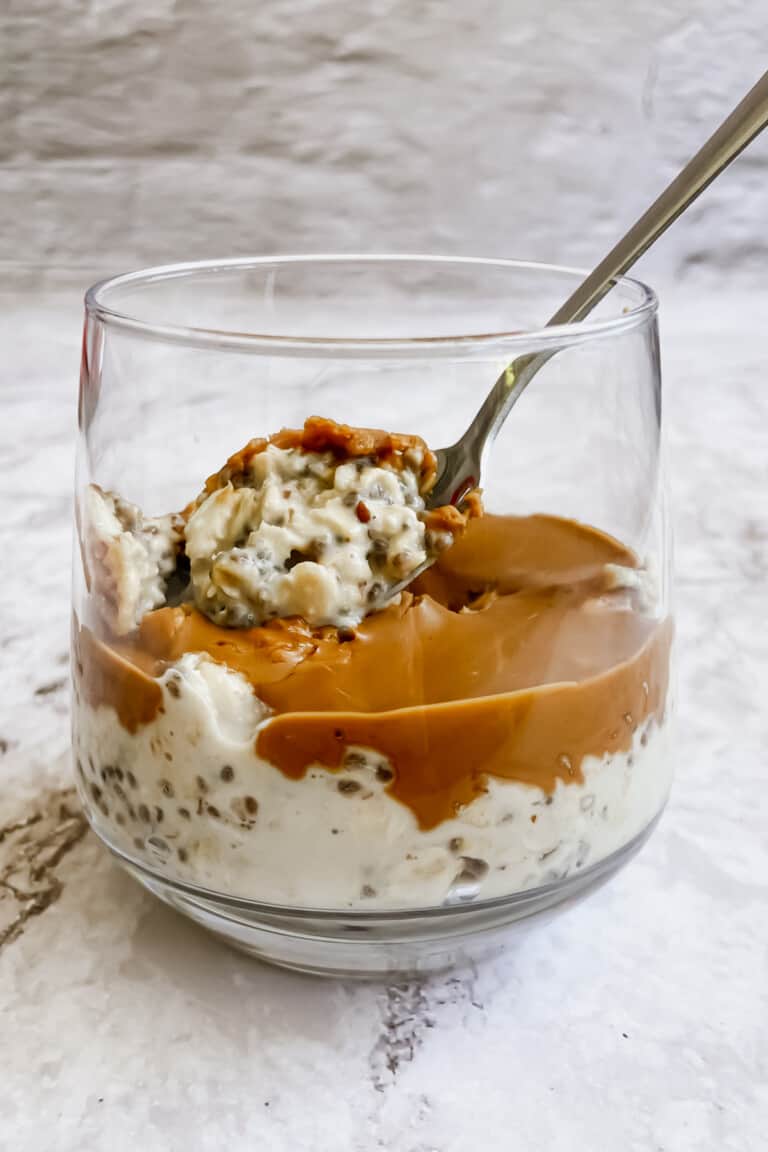 One of the most popular recipes on Simply Fresh Foodie is Biscoff Baked Oats You'll Fall In Love With. And as much as you all seem to love this recipe, we also happen to think it's great. But what about those times when you want something cooler, and easier to make?
That's where these lotus overnight oats come in. Taking inspiration from our baked oats recipe, we kept the flavours the same while creating these Biscoff overnight protein oats. And let us tell you, they don't disappoint.
These oats are:
So easy to make the night before
Perfectly sweet
High in plant-based protein
Super filling
Most importantly: delicious
But What Is Biscoff?
If you haven't heard of Biscoff cookie butter yet, get ready to have your world changed. Lotus Biscoff Spread is a sweet spread that's made of Lotus Biscoff cookies. Similar in texture to peanut butter, it has a much sweeter and spicier flavour. 
If you've ever been served a little biscuit in plastic with your coffee, odds are it might've been a Biscoff cookie. They're like a less-spicy gingersnap, with a stronger sugary flavour. Almost like a combination of brown sugar and cinnamon. 
In other parts of the world, you may have heard of similar spreads like Cookie Butter and Speculoos. No matter what you call it, you can expect the same delectable sweetness.
Customise This Recipe
The beautiful thing about this recipe is that it's easily customisable to suit everyone's needs. Here are a few swaps you can make to change it up if you'd like:
Swap soy milk for any other type of milk (almond, dairy, macadamia, oat - see more below)
Swap protein powder for 2 tablespoons extra oats, peanut butter powder, greek yoghurt, or whey protein
Swap flax meal for chia seeds
Swap cinnamon with nutmeg or allspice for a spicier version
The Oats
If you make the recipe as-written, you'll use rolled oats but quick oats, instant oats and old-fashioned oats work too. The only difference is that rolled oats will have more texture, while quick oats and instant oats will become more creamy. The only oats you should avoid are steel cut oats as they don't absorb liquid the same way and are therefore not a good option for overnight oats. 
The Milk
This overnight oats recipe calls for soy milk, but any dairy or non-dairy milk of choice will work. Other options include
Oat milk
Almond milk
Dairy milk (if not vegan)
No matter which one you choose, just make sure you use the same amount of milk called for in the recipe (½ cup).
Storage & Transport
Want to be able to quickly grab your healthy breakfast on busy mornings? It's all about the containers. 
Choosing easily-transportable containers ensures that you can bring your oats with you the next morning, without worrying about them spilling inside your work bag. We've tried and tested the following overnight oats containers and each one of these containers is a great option for oats on the go. 
Transportable options
Mason jar
Old peanut butter jar, washed out and re-used (also a sustainable option!)
Airtight container, such as small Tupperware or thermoses
If you have no need to transport your breakfast, don't worry about mixing your oats in a fancy container. Simply mix them in a bowl, cup or mug and cover with foil or plastic wrap overnight. 
Optional add ins
Level up these oats with optional add ins and additional toppings including:
Peanut butter
Chocolate chips
A little bit of vanilla extract (½ tsp)
Extra melted cookie butter (mix it in for a super-Biscoff flavour)
Common Questions
How long do Biscoff overnight oats need to set?
These oats should set in the fridge for at least 4-8 hours in order to allow them to soak up all the liquid. In the recipe, we listed 8 hours with the assumption that you'll make them at night and eat them in the morning. Trust us, these Biscoff oats are worth the wait!
Can this recipe be made vegan?
Yes! In fact, this recipe is already 100% vegan-friendly. Of course, if you're not vegan, you can use regular milk and whey protein instead.
How long can Biscoff overnight oats be made in advance?
These overnight oats can be made up to one day in advance. So if you don't eat them the morning after you make them, they will still taste fine the day after. Any longer and they will start to become too soggy.
Are these protein overnight oats?
This recipe already contains protein powder, but if you want to increase the protein levels even more, simply add more protein powder (and more liquid) into the mix. Depending on the type of protein powder you use, you may want to add a little more or less liquid, depending on how absorbent it is.
Are Biscoff overnight oats healthy?
While Lotus Biscoff might not be the healthiest ingredient ever, this recipe nevertheless turns out a fairly balanced breakfast with 372 calories and almost 19 grams of protein. Increase the fibre content by eating some berries on the side!
Can I make this without protein powder?
Yes to make these overnight oats without protein powder, simply add ½ tablespoon of chia seeds instead, as well as a little extra sweetener. See notes on bottom of recipe for details.
More Biscoff Recipes to Try
Overnight Weetabix With Biscoff
Biscoff overnight oats recipe
Print
📖 Recipe
Biscoff Overnight Oats
---
Author:

Total Time:

8 hours 5 minutes

Yield:

1

1

x
Description
These Biscoff overnight oats with a Biscoff shell are the perfect easy breakfast. They're healthy, high protein, vegan, and most of all delicious!
---
½

cup

rolled oats

½

cup

soy milk (or nut milk)

½

serving vegan protein powder (if not using protein powder see note below)

½ tablespoon

flaxseed meal (or LSA)

1 teaspoon

cinnamon

1 teaspoon

vanilla

1

pinch salt

1 tablespoon

Lotus Biscoff spread (melted)
---
Instructions
Combine all ingredients besides biscoff spread in a small bowl and mix well.
Transfer mixture to a small ramekin/ glass/ jar to set overnight.
Melt Biscoff spread in the microwave to create a glaze. Pour the melted Biscoff over the oats.*
Let set in fridge overnight, at least 4-8 hours. The oats are ready, when the Biscoff glaze is solid, and the overnight oats have thickened.
Notes
Note: The best way to melt the Biscoff spread is by placing it in a small bowl or ramekin and microwaving for 15-30 seconds.
If not using protein powder, instead add ½ tablespoon of extra flaxeed meal, LSA or chia seeds. Also, add up to 1 tablespoon of maple syrup for extra sweetness. 
Prep Time:

5 minutes

Category:

Breakfast

Cuisine:

Australian
Keywords: biscoff, overnight oats
Editorial Note: This recipe was originally published in September 2021 and has since been updated for accuracy and comprehensiveness.
Love this recipe? Don't forget to leave a comment and a ⭐ ⭐ ⭐ ⭐ ⭐ rating to help other people find it.