This single serve higher-protein biscoff lava cake just might the best thing I've ever made.
When I was testing this recipe, my boyfriend had one bite, and immediately ate two-servings worth. He's a pretty tough critic when it comes to "healthier" baking, so I knew I had something good on my hands.
I even made it again the next day, because you can never have too much of a good thing. Right?
To be honest with you, I almost can't believe that I made this recipe. Like, it seems almost too good. How did I manage to mix some ingredients in a bowl, and come out with this heavenly biscoff lava cake? I don't know.
But what I do know is that everyone needs to try this at least once in their life. I want all my friends, family, and random internet acquaintances to make this and enjoy it. Unless you hate biscoff (I've yet to meet that person), I know you'll love it.
I've been loving single serve desserts lately, and this one has to be at the top of my list.
How Do You Make Lava Cake?
Before I mastered this, I was asking myself the same thing. I even made a few early-stage recipes that failed miserably at achieving a gooey centre.
Along the way, I've learned a few things at making a lava cake have that delicious gooey centre. Here are a few tips
Grease your pan/ ramekin enough: If you don't grease your baking vessel, the lava cake can get stuck inside. If you break the cake while taking it out, it'll still taste good, but it will be a gooey mess. If you want it to look pretty, grease the ramekin. Grease it well. I do it with vegan butter, but you can also use regular butter, oil or a spray.
Use a melt-y filling: I know it seems obvious, but you need to choose a filling that will melt in a fairly short amount of time. The cake is only in the oven for 15 minutes, so something that doesn't melt easily may not create a gooey centre.
Use enough filling: Another mistake I've made. If you don't use enough filling (like one small piece of chocolate for example) it won't make a gooey centre, but rather a small melted bit in the middle. It will still be good, just not a lava cake per se.
Put the filling between two layers of batter: I messed this one up massively the first time I tried to make biscoff lava cake. I put the biscoff on top of the better, and rather than melting and turning soft inside the cake, it kind of hardened. It still tasted good, but it was more of a blog of baked biscoff, rather than a sauce-texture. I think that putting batter on top of the filling helps it to liquify without burning under the oven's element.
What You Need to Make It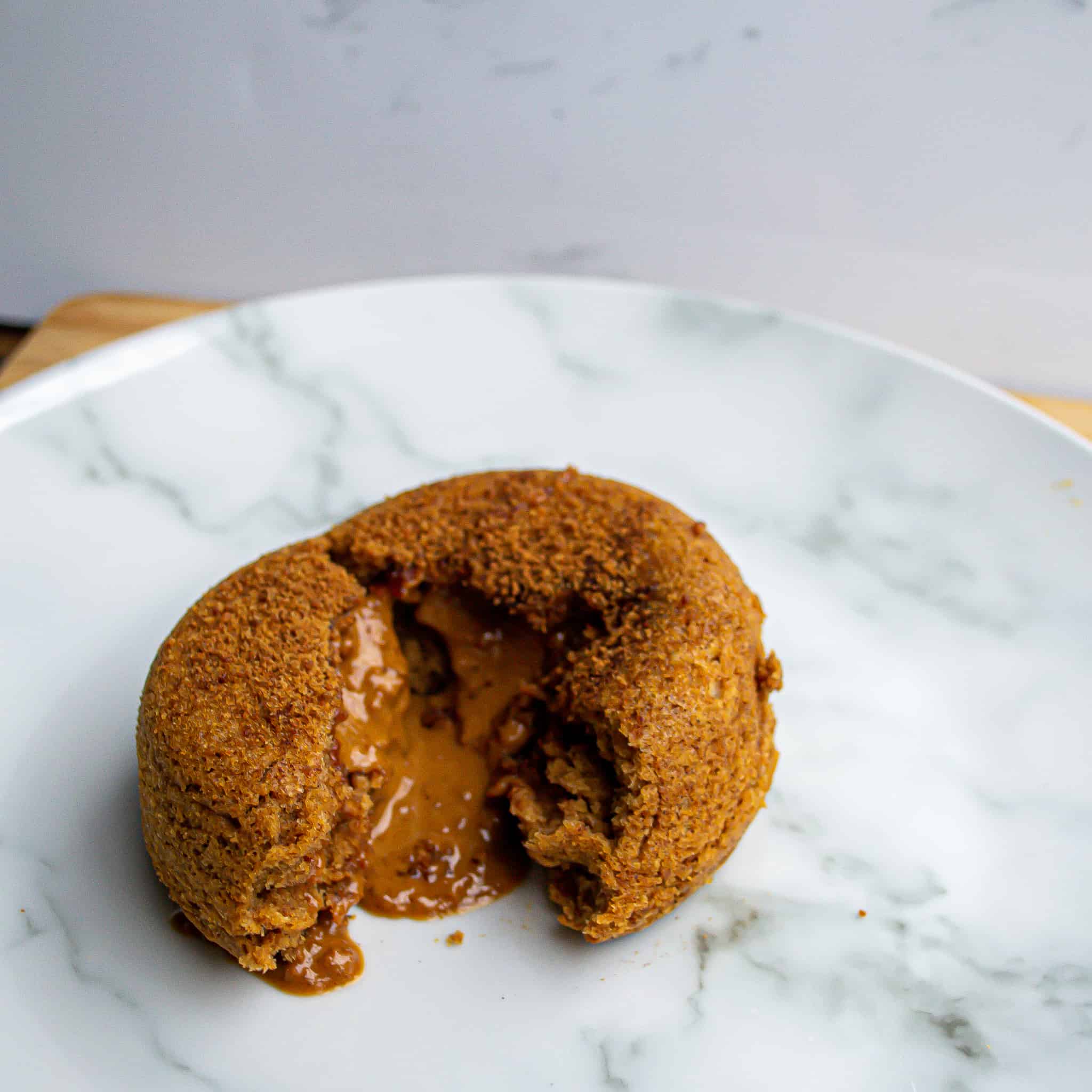 Self raising flour: I used regular white self-raising flour. I haven't tried it with wholemeal, so I'm not sure how it would work. If you try it, let me know how it goes in the comments.
Soy milk: You can use any nut milk you prefer here, but I personally find soy mimics dairy best in baking.
Powdered peanut butter: I like using PB2 in my recipes because it mixes very well, and the taste blends well with other sweet flavours. This is where the extra protein comes from too. If you want, you can use protein powder instead.
Coconut sugar: Coconut sugar is amazing when paired with the cinnamon and biscoff flavours of this cake. You can use any other sweetener you prefer.
Vegan egg: I like using a vegan egg replacer, as it always yields perfect results. You could also try it with a flax egg (let me know if it works!)
Cinnamon: Adds a wonderful spice.
Baking powder: Helps it rise.
Biscoff spread: For this recipe, I changed it up and used the crunchy biscoff spread. It was amazing! You can use either smooth or crunchy, the choice is yours. It would also taste great with nutella or peanut butter instead.
Print
📖 Recipe
Single Serve Protein Biscoff Lava Cake
---
Total Time:

10 minutes

Yield:

1

1

x
Description
This biscoff lava cake is a decadent compromise between an indulgent dessert and a healthier option. It's still a lil cheeky, but it does contain more protein than a typical lava cake would. Regardless, it tastes so amazing, I think everyone needs to try it at least once.
---
20 g

self raising flour

3 tbsp

soy milk

2 tbsp

powdered peanut butter ((or protein powder))

1 tbsp

coconut sugar ((or maple syrup))

1

vegan egg

½ tsp

cinnamon

¼ tsp

baking powder

1 tbsp

biscoff spread
extra cinnamon & coconut sugar (for topping (optional))
---
Instructions
Preheat Preheat oven to 180°C.
Mix Mix all ingredients except the biscoff spread and extra cinnamon and sugar in a small bowl.
Bake Pour ¾ of the batter into a greased ramekin. Add the biscoff spread to the centre, and pour remaining batter on top. Bake for 15 minutes, until the cake is risen and springy to touch.
Top Remove from oven, and let cool for a few minutes. Tip cake onto a plate, and sprinkle the top with extra cinnamon and coconut sugar if you'd like. Enjoy!
Prep Time:

5 minutes

Cook Time:

15 minutes

Category:

Dessert

Cuisine:

Australian
Nutrition
Calories:

319

Fat:

9

Carbohydrates:

49.1

Protein:

14.1
Keywords: baking, biscoff, lava cake, protein, single serve
Love this recipe? You need to try this single serve vegan banana bread too!