These vegan Biscoff cupcakes are perfect for your next birthday or celebration. Perfectly fluffy and sweet with a dreamy Biscoff glaze, you'll be coming back for seconds!
I know what you're thinking, "another Biscoff recipe?"
And to you reader, my answer is "YES! Another one!" I'm not over Biscoff yet, so I know there are others out there who want more (and more) Biscoff recipes.
While thinking up clever ways to use the luscious cookie butter spread, it suddenly dawned on me: Cupcakes.
Cute, delicious, and perfect for every occasion, what's not to love about a cupcake?
On top of how adorable they are, I generally find cupcakes to be a way easier alternative to baking an elaborate layer cake. And these vegan Biscoff cupcakes are no exception. With one bowl, a cupcake tin, and about 30 minutes to spare, you'll be eating these tasty treats in no time.
If you're worried about vegan baking, never fear.
These cupcakes are super easy to make and don't have any of the stereotypical qualities that vegan pastries are sometimes shamed for. There's no sandy texture and no unwanted density to these cupcakes. Plus, the taste is out of this world, with just a hint of Biscoff to make them sing!
Vegan Biscoff Cupcake Ingredients
Contrary to what you might believe about vegan baking, the ingredients list for these cupcakes is relatively simple.
Flour: Simple, all purpose flour is what you'll want for these cupcakes
Raw Sugar: While you could use white or caster sugar here, I find that raw sugar provides a nice caramelised flavour to these cupcakes.
Bicarbonate / Baking soda: Since we're not using self-rising flour, a little bicarb is essential in helping these cupcakes rise. Don't skip it!
Sea Salt: Just a pinch of sea salt helps to balance the sweetness of the cupcakes.
Almond Milk: Any almond milk will work here. I used unsweetened almond milk, but any neutral flavour will work. A splash of almond milk will also be used to make the Biscoff glaze that tops the cupcakes.
Oil: Make sure to choose a flavourless variety for the best results. I used sunflower oil, but canola oil and vegetable oil would work equally well for this recipe.
White Vinegar: It might sound strange, but you can't taste the vinegar at all! In combination with the bicarb soda, this is what helps the cupcakes rise.
Lotus Biscoff Spread: A little bit of Biscoff mixed in with the wet ingredients helps to add a hint of Biscoff flavour to the cupcakes. You'll also use some of this in the Biscoff glaze on top.
Powdered/ Icing Sugar: Powdered sugar and icing sugar are two different names for finely ground sugar. Regardless of what you call it, this is what you'll use to make the glaze for the cupcakes.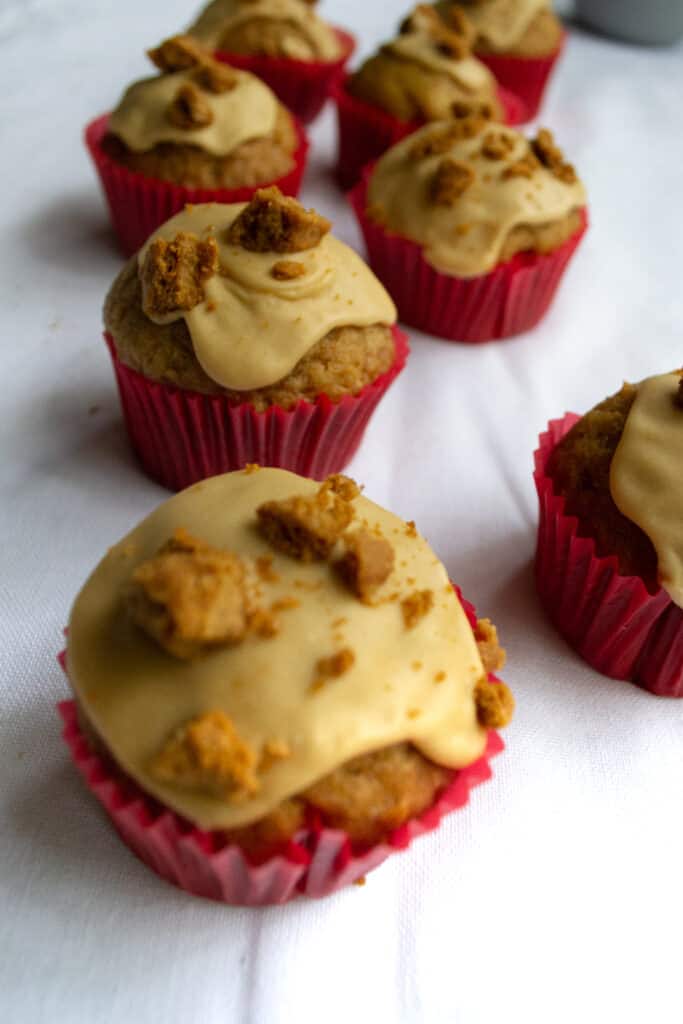 Frequently Asked Questions
How do these cupcakes rise without any egg?
Thanks to the combination of bicarbonate soda and vinegar, these cupcakes rise while baking to produce a perfectly fluffy result.
What is Biscoff anyway?
Lotus Biscoff spread is made from the cookies of the same name. It's sweet, slightly spiced, and gooey like peanut butter. Simply put: It's delicious and addictive.
How can I make these sugar free?
Because of the sugar in the Biscoff spread, it's impossible to make these cupcakes 100% sugar free. However, if you're trying to cut back on sugar, you could swap granulated stevia for the raw sugar in the cupcakes. For the glaze, you could choose a powdered monkfruit sweetener as opposed to icing sugar.
Print
📖 Recipe
Vegan Biscoff Cupcakes
---
Total Time:

30 minutes

Yield:

12

cupcakes

1

x
Description
These vegan Biscoff cupcakes are perfect for your next birthday or celebration. Perfectly fluffy and sweet with a dreamy Biscoff glaze, you'll be coming back for seconds!
---
Dry Ingredients
200

grams

all purpose flour

200

grams

raw sugar

1 teaspoon

bicarbonate/ baking soda

1

pinch sea salt
Wet Ingredients
220

millilitres almond milk

50

millilitres flavourless oil ((sunflower, canola, or vegetable))

15

millilitres white vinegar

30

grams

lotus biscoff spread
Biscoff Glaze
1

cup

powdered/ icing sugar

1 ½ tablespoons

almond milk

1 tablespoon

lotus biscoff spread

2

biscoff cookies, crumbled (optional)
---
Instructions
Cupcakes
Preheat oven to 180° C. Line and grease the cupcake tin, using cupcake liners and a non-stick spray if desired.
In a medium bowl, add all purpose flour, raw sugar, and bicarbonate soda. Mix dry ingredients well.
Next, add the almond milk, oil and white vinegar. Stir well to combine.
Add biscoff to the wet ingredients, and mix thoroughly using a whisk. To make this step easier, you could also melt the biscoff by microwaving it for 30 seconds before adding to the mix.
Using a large spoon or small measuring cup, scoop the batter into the prepared cupcake tin, filling each hole about ¾ full to give the cupcakes room to rise.
Place cupcake tin in the preheated oven, and bake for 20-23 minutes. When the cupcakes are ready, they should be slightly golden on top and spring back to touch. A toothpick entered into the centre should come out clean. If your cupcakes are still too soft or the toothpick comes out dirty, return to oven and continue baking at 2 minute increments until ready.
Once cupcakes are done, remove from tin and place on a wire rack to cool immediately. Let cool completely before icing.
Biscoff Icing
Once cupcakes are cool and ready to be iced, prepare the icing.
In a small bowl, mix powdered icing sugar, almond milk and biscoff.
Stir well with a fork to combine, until no clumps remain.
Using a spoon, dollop the icing onto each cupcake. If you want to decorate with biscoff cookie crumbs, sprinkle them on immediately after adding icing to cupcake. This way, the crumbs will stick before the icing sets.
Let cupcakes sit for at least 10 minutes to allow icing to set.
Once icing is set, dig in and enjoy! Cupcakes will keep for up to 5 days in an airtight container but are best enjoyed within the first 2 days of baking.
Notes
*Nutrition calculated without optional Biscoff cookies as toppings.
Prep Time:

10 minutes

Cook Time:

20 minutes

Category:

Dessert

Cuisine:

Australian
Nutrition
Calories:

231

Fat:

6.3

Carbohydrates:

42.9

Protein:

2
Keywords: biscoff, cupcake, vegan
If you make these cupcakes, I'd love to hear from you! Leave a comment to let me know what you think.
Latest Posts