Find out what dandelion tea is good for, the benefits, risks and how you can make it yourself. Read on to learn everything you need to know, from where you can buy it to potential side effects. 
Are you looking for an alternative and natural beverage to add to your daily routine? Dandelion tea has been gaining popularity recently for its potential health benefits, but what exactly is it good for? Read on to discover the wonders of dandelion tea, from what it can do to your body to when is the best time to drink it and potential side effects.
Our Process
To get an understanding of whether dandelion tea is beneficial to health or not, we relied on published resources, found on Google Scholar. Because the internet can unfortunately sometimes be misleading, we decided that using published research was a better alternative than relying on online outlets which can sometimes be biased.
In one instance, we do quote a nutritionist who had been featured in an article on Parade, but all other sources mentioned have come from journals found on Google Scholar. Full citations can be found at the bottom of the article — click through to the links to see the research for yourself.
What Are the Health Benefits of Dandelion Tea?
One of the main reasons why dandelion tea has become a hot topic recently is because it's said to have several health benefits.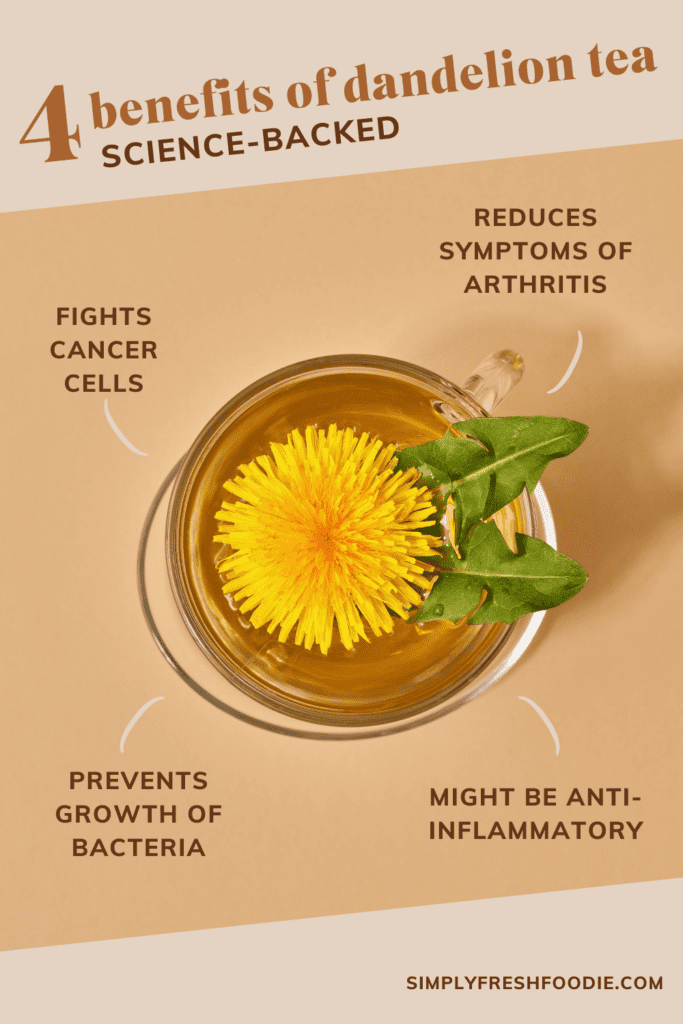 Check out these research-backed benefits of dandelion tea and click on the link to learn more about each. 
When Is the Best Time to Drink Dandelion Tea?
Because it's caffeine-free, you don't have to worry about dandelion tea keeping you up at night. But does that mean you should drink it down at any hour? Not exactly.
Nutritionist Kim Ross told Parade that due to its diuretic effects, she doesn't recommend drinking it before bed. Simply put, you don't want to wake up in the middle of the night to go to the bathroom.
Another time to avoid dandelion tea according to Ross is around the same time you take supplements and vitamins. The reason for this is that you don't want to cause any potential interactions that might impact the way your body absorbs these.
What are the Potential Side Effects?
Like all herbal remedies, dandelion tea is not without its risks. To understand the risks associated with dandelion tea, we turned to Google Scholar. Here is some evidence-backed information on the potential downsides.
According to our findings, it turns out that when it comes to dandelion tea, you really can have too much of a good thing. Dandelion tea's side effects include:
Can be bad for your health when drunk daily due to exposure to trace metals including Nickel, Arsenic, Manganese, Chromium and more (Xiao et al., 2023)
Can trigger hyperoxaluria in people with pre-existing health conditions if drunk in excess (Moriarty et al., 2013)
How to Brew (and Where to Buy) Dandelion Tea
While you can buy your own dandelion root, roast and brew it, the easiest way to make dandelion tea (by far) is simply using dandelion tea bags. There is a huge variety of different dandelion teas that you can find online and in health stores, but here are a few great options to get you started.
If you're still keen on trying to roast and brew the tea yourself, Ascension Kitchen has an in-depth guide that can help.
Will You Try It?
All things considered, dandelion tea can be a fabulous coffee alternative when used safely. Just make sure that you don't have any conflicting health issues before committing to a routine with dandelion tea, and make sure to keep your consumption within moderation.
Whether it becomes your daily brew or an occasional replacement for your coffee, dandelion tea offers health benefits that can help you thrive without caffeine.
Have you tried it? Share your experiences with dandelion tea in the comments below and let other readers know how it's impacted you and your health.
Citations
Can I see the full citations for the sources listed above?
Here you go!

Cock, I. E., & Cock, E. S. G. (2017). Dandelion tea is effective at killing cancer cells - phcog commn. Dandelion Tea is Effective at Killing Cancer Cells. Retrieved April 4, 2023, from https://phcogcommn.org/wp-content/uploads/2021/08/PharmacognCommn-7-4-174.pdf  

WEN, Z., HAN, K., YANG, G., YU, J., YAO, X., TIAN, Y., & ZHU, Y. (2022, October 24). Effects of dandelion tea on type II collagen induced arthritis in mice by regulation of ROR-γt/foxp3 signaling. Food Science and Technology. Retrieved April 5, 2023, from https://www.scielo.br/j/cta/a/ZJHCf3gGkddcpMkjPsMQsXQ/?lang=en 

Li, S., Chi, X., Yongheng, B., & Zheng, M. (2021). Study on the antibacterial activity of dandelion leaf tea - iopscience. IOP Science. Retrieved April 4, 2023, from https://iopscience.iop.org/article/10.1088/1755-1315/705/1/012010 
González-Castejón, M., Visioli F., Rodriguez-Casado A., Diverse biological activities of dandelion, Nutrition Reviews, Volume 70, Issue 9, 1 September 2012, Pages 534–547,

Xiao, C., Liang, B., Xiong, W., & Ye, X. (2023, March 6). Enrichment and health risks associated with trace elements in medicine food homology teas - environmental science and Pollution Research. SpringerLink. Retrieved April 10, 2023, from https://link.springer.com/article/10.1007/s11356-023-26172-5 
Moriarty, B., Pinney, J. H., Owen-Casey, M. P., Rustin, M. H. A., Deroide, F., Laing, C., & Davenport, A. (2013, July 1). Digital necrosis from dandelion tea. British Journal of Dermatology. Retrieved April 10, 2023, from https://academic.oup.com/bjd/article-abstract/169/1/227/6615267