This easy tomato spaghetti is one of the best simple meals ever. It's healthy, fresh, and takes less than 20 minutes to whip up.
In addition to being vegan, quick and delicious, it's something you can make pretty much anywhere. Because it requires very little cooking, this would be the perfect dish to cook when you don't have a full kitchen at your disposal.
I love that you can make this pretty much anywhere, and I wish I would've had this recipe when I lived in a dorm. Eating healthy in college can be tricky, so whipping up simple healthy foods like this can make all the difference. Recipes like this easy tomato spaghetti are great for those times when you just want to make something for yourself, without feeling limited by the confines of a dorm room.
Cooking Spaghetti in a Dorm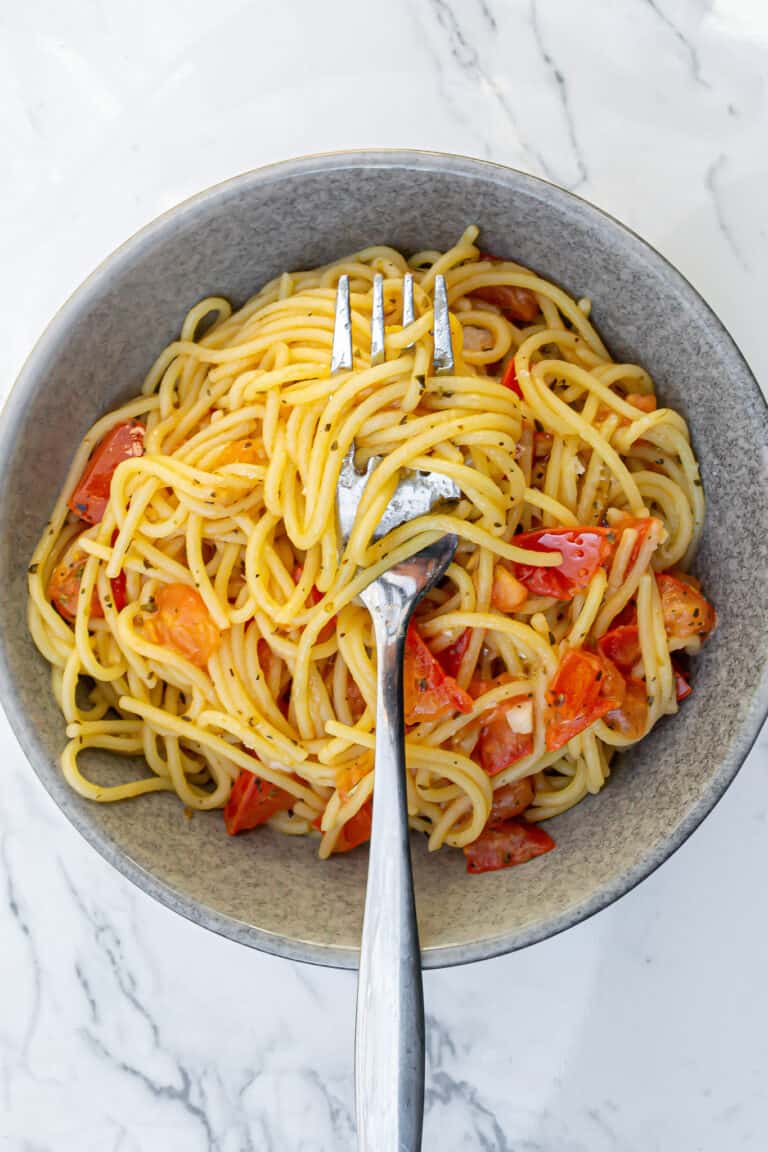 I know this may sound weird an complicated, but cooking spaghetti in a dorm can actually be pretty easy.
I know you may not want to be that person draining your pasta in the communal bathroom, but sometimes you've just had enough of dining hall food.
One option for cooking in the dorms is to use an electric pot. It's really just a self-heating pot, which you can boil water and cook as usual in.
Other option is to microwave your pasta, and while I know that's offensive to some Italian-food-traditionalists, I also think it's pretty innovative for those who don't have access to a kitchen. I've laid out instructions for cooking pasta in the microwave with the rest of of the recipe below. One thing to note is that you'll want to use a different pasta shape, or break your spaghetti first so that it can fit in a bowl.
What You'll Need For This Simple Tomato Spaghetti
Spaghetti: Spaghetti works perfectly in this dish. The long noodles pair so well with the sporadic tomato chunks. If you prefer, or choose to cook it in the microwave, you can always use different pasta shapes instead. I think that penne would be a particularly good swap here.
Tomato: The fresher the better. Juicy tomatoes are perfect for this recipe, as the "sauce" pretty much just comes from the tomatoes releasing their juices.
Garlic: Don't leave it out. Garlic truly makes this dish sing! You can also use a little garlic powder instead, but the flavour won't be as prominent.
Olive oil: Always, always, always try and have a good-quality olive oil in your pantry. I know it seems arbitrary, but the nicer the olive oil, the better it will taste. You want your oil to add dimension, depth and flavour to your dishes, and cheaper olive oils just don't cut it usually.
Italian seasoning: You can buy pre-mixed Italian seasoning in the spice section of the grocery store. If you don't have it though, you can also use dried basil, oregano, or a combination of the two.
Print
📖 Recipe
5 Ingredient Easy Tomato Spaghetti
---
Total Time:

15 minutes

Yield:

1

1

x
Description
This easy tomato spaghetti, requires only 5 ingredients and 15 minutes to make. If you have access to a microwave, you can even make it in a dorm room (for all you college students trying to eat healthier!)
---
4 oz

spaghetti ((

113g

) )

1

Tomato (diced)

1

clove garlic
.5 tablespoon olive oil (extra virgin)

1 tsp

Italian seasoning ((or combo of basil and oregano) )
---
Instructions
Cook spaghetti Bring a large pot of water to a boil. Heavily salt the water. Add dried spaghetti, and cook until al dente, about 8 mins.
Make sauce Meanwhile, create the sauce by chopping up the tomato and garlic. Put them into a small bowl. Add a sprinkle of sea salt to help the tomatoes release their juices. Add olive oil and spices. Mix.
Drain Reserve ¼ cup of the pasta water, and drain the rest, using a colander.
Mix Add warm pasta back into pot. Pour tomato mix on top, and mix well. Add pasta water as needed to slick up the pasta, you probably won't use the entire ¼ cup. Season with a little extra olive oil and salt.
To Cook It In a Dorm
The only thing that will change if you're cooking this in a dorm room is how you'll cook the spaghetti.
One simple solution is to cook the pasta in an electric pot. (See equipment section for a link.) If you don't have an electric pot, you can swap the spaghetti for a smaller pasta shape and cook it in the microwave.
Very sorry for any purist Italians out there, but desperate times call for desperate measures, and sometimes eating healthy in college feels very desperate.
To cook pasta in the microwave, put your dry pasta in a microwave-safe bowl. Cover dry pasta with water, filling the bowl up but leaving a bit of space so it doesn't boil over. Microwave for the time suggested on the pack, then test. If the pasta needs more cooking, continue microwaving in 1-minute intervals. Usually, this won't take more than 5 additional minutes.
Prep Time:

5 minutes

Cook Time:

10 minutes

Category:

Main Course

Cuisine:

Italian
Nutrition
Calories:

401

Fat:

9.8

Carbohydrates:

65.3

Protein:

13.6
Keywords: lunch, pasta, spaghetti
Want more easy recipes? Check out these, which all require five ingredients or less!