It's no secret that you can find the best kitchen gadgets on Amazon.
But when you first start browsing the endless catalogue of Amazon that has seemingly every product ever known to man, it can be overwhelming — to say the least.
One moment, you're searching for something you need, and the next you have a hundred tabs open and are reading through page five of a thousand reviews. Anyone else?
Let's face it, it's easy to get distracted on the mega-site that is Amazon. When you can find virtually everything in one place, it's so easy to get off track.
If you're on the hunt for some kitchen finds from Amazon, though, never fear.
To make your life easier, we've compiled a definitive list of the best Amazon kitchen must haves. That way, you can spend more time in the kitchen and less time trawling through the never-ending options.
The 12 Best Kitchen Gadgets On Amazon
Finally, a way to organise cupboard shelves! These handy shelves make it easy to see what food you've got on hand, without having to move everything around. We also love the added drawer, which would be perfect for storing things like small packets of species or tubes of tomato paste. 
The shelf is on sale right now, so you get exponentially more organized for only $26. Sounds like a steal to me!
Hear us out: An asparagus peeler is the kitchen tool you never knew you needed.
Specifically designed to cut back on food waste, this amazing peeler removes only the rough outer skin, leaving the tasty tender bits intact. While it's designed to peel asparagus, reviewers also noted that it's great for cabbage and cucumbers as well.
You'll be eating more veg in no time!
Always wanted to try courgetti, but don't have the patience to hand-cut zucchini into teeny-tiny noodles? This spiralizer makes it super simple!
It's no secret that coffee is best when it's fresh! Use this grinder for the freshest grounds each morning. Best of all, it serves the dual purpose of acting as a spice grinder for the freshest, most flavourful spices to use while cooking.
To further master your morning brew, this handheld milk frother is the perfect companion. Small, compact, and easily able to fit in your cutlery drawer. You can even throw it in your bag or keep it in a desk drawer at work for deliciously frothy coffee all day long.
Looking for something a little more serious? This Lavazza milk frother makes the best cappuccino. Simply pour in the milk, press the power button, and let it froth. While it's not as compact as the Ikea frother, it goes further in achieving that perfect cappuccino froth.
While we're obviously all about cooking here at SFF, even we can admit that chopping onions is less than ideal. Ditto for super thinly-sliced veggies. Thankfully, this 12-in-1 cutter/chopper/mandoline can handle it all.
By now, we've introduced you to the perfect coffee grinder and milk frothers, but how do you make the perfect cup of joe? If high-quality, aromatic coffee is your favourite, you simply NEED an AeroPress in your life. Compact, easy to clean, and even easier to use, it's the easiest way to achieve barista-quality coffee at home.
This citrus squeezer is a true saving-grace when it comes to juicing citrus fruits. You'll be surprised at just how much liquid you can get out of a lemon with this handy tool, and if we do say so ourselves, it's pretty cute too!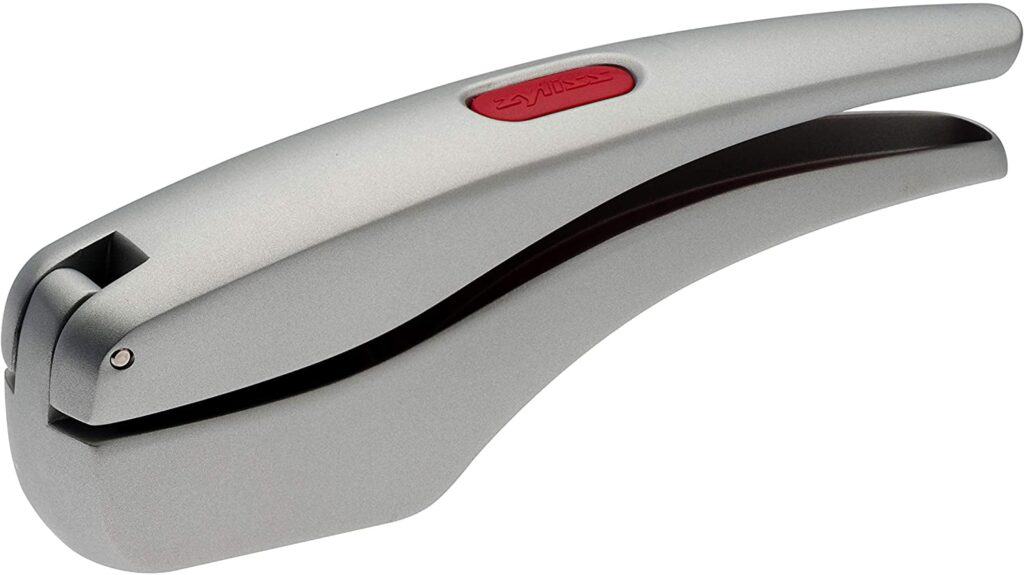 If you don't have a garlic press, run don't walk. While it might seem like a bit of a kitchen luxury, it does make mincing garlic a whole lot easier - perfect for those recipes that call for a lot of garlic!
NutriBullet already makes the most convenient blenders on the market — hands down — and this immersion blender is no exception. Easy to use and even easier to clean, it's powerful enough to liquefy even the chunkiest of soups. Swap out the blender attachment for a whisk to make easier-than-ever whipped cream and sauces.
Now that you've seen some of the best amazon kitchen gadgets, you'll be cooking up a storm! If you found this helpful, let us know in the comments below.
Latest Posts