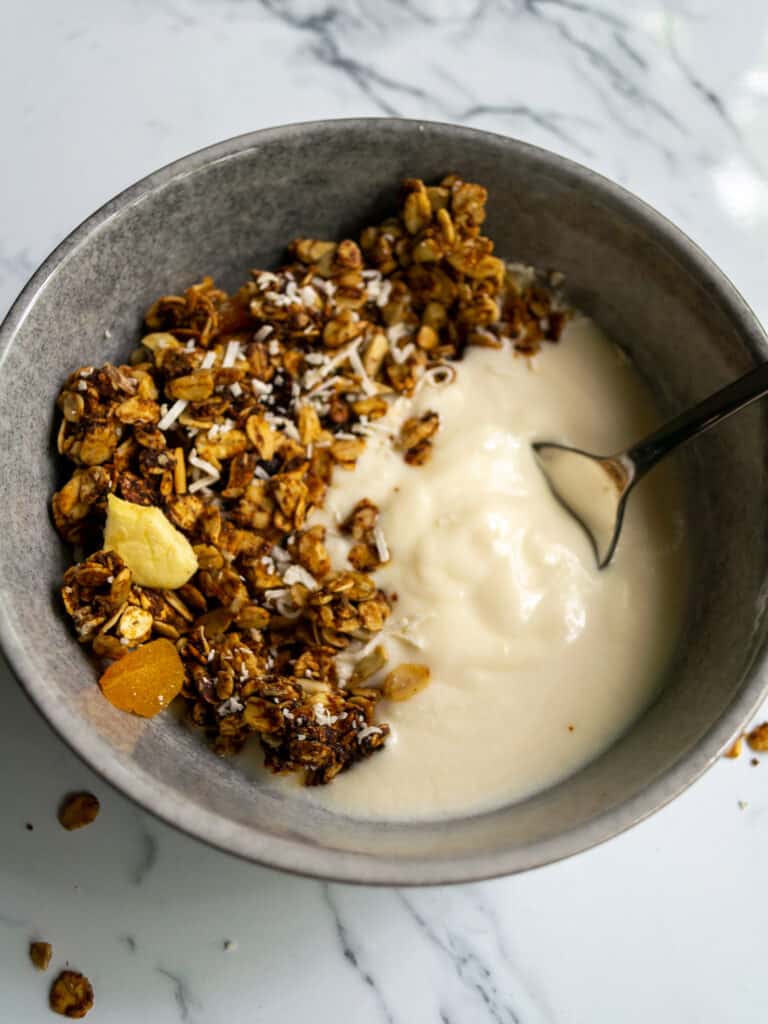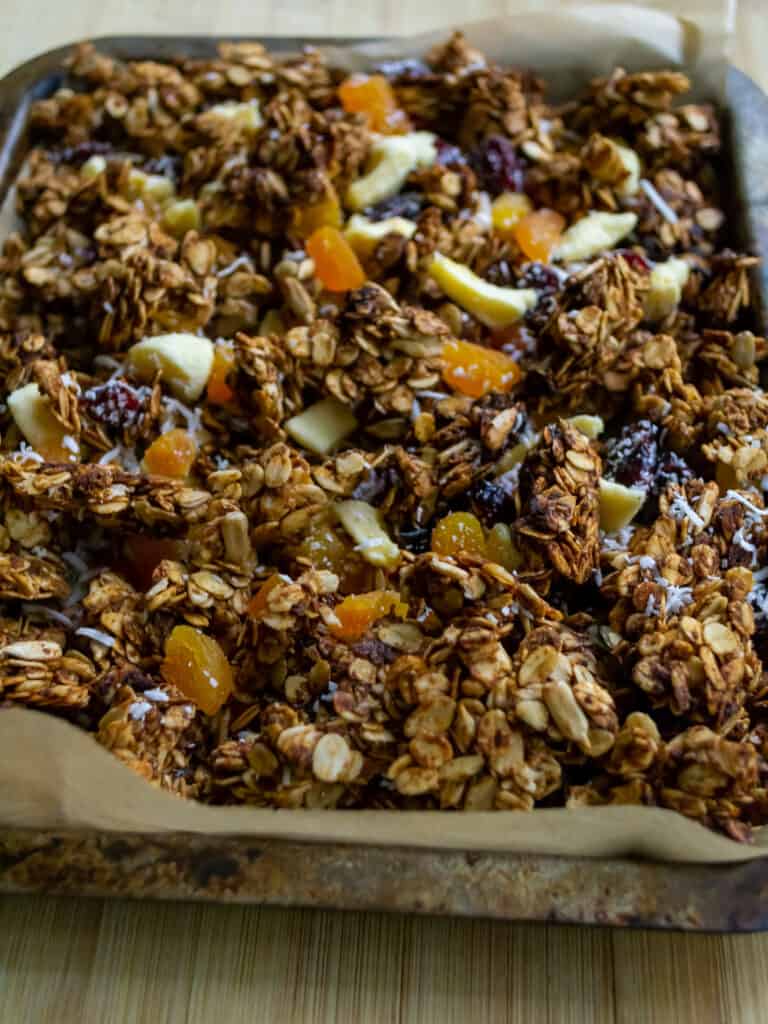 This healthy granola with dried fruit and coconut is seriously amazing. It's great on its own, with some soy milk, or eaten on top of yogurt. Made with date syrup, it's naturally less sweet and more healthy than many store-bought granolas.
It must be said: I love fancy granola. Not just the regular stuff you buy in boxes in the cereal aisle, I'm talking about gourmet-level granola. While I've amassed a few favourites over the years at local cafes, specialty supermarkets and the like (I'm looking at you, Whole Foods), the plain and simple fact is that "fancy granola" also comes with a fancy price tag.
At my local grocery stores, I've seen nicer looking granolas, but with prices beyond $10, nearing the $20 mark, I just can't justify it.
Thankfully, great granola is super easy to make. With just a few basic ingredients and your favourite add-ins, you can whip up the best granola ever with very little effort required.
In this healthy granola recipe, I've stuck with a few of my favourite flavours. Cinnamon and ginger provide the perfect spicy depth, while dried cranberries, apricots, and apples bring texture and flavour. Unlike most granola recipes, which use honey or maple as a sweetener, I've opted for date syrup instead here. While it does make for less-sweet granola, I think it's the perfect balance of flavours.
It also deserves a mention that this granola smells amazing while it bakes. A little bit spicy, a little bit sweet… it's like the baking scent of your dreams. And when it's all done, you have an amazing, crunchy, chunky granola to sprinkle on your favourite yogurt.
What You Need
Rolled oats: Make sure you use whole, rolled oats for this recipe to get the best texture
Sunflower kernels: These bring a little bit of texture as well as vitamin E and selenium
Flaxseed meal: Flaxseed meal is so good for you, and this is such an easy way to get some more of it into your diet
Salt: A little bit of salt helps balance the flavours in this granola
Cinnamon: I think cinnamon is a must in any granola recipe, but leave it out if you're not a fan
Ginger: Ground ginger provides a nice spicy zing, but if you don't have it or don't like it, you can sub for more cinnamon, cardamom, or leave it out altogether
Liquid coconut oil: Make sure you use liquid coconut oil to help everything bind together, if your oil is solid, simply microwave it for a few seconds to liquefy it
Date syrup: I used date syrup since it is lower in sugar and higher in antioxidants, honey or maple syrup would also work well though
Vanilla Extract: A splash of vanilla goes a long way flavour-wise. You can swap it for almond extract, or leave it out if you prefer
Extra Add-Ins
These add-ins can be customised in any way you like. Dried fruit, extra nuts, chocolate chips, the possibilities are endless. I used a combination of cranberries, apples, apricots and coconut for an atumnal vibe. I love the way it turned out, but if you dislike any of these fruits, you can swap for ones you do like!
Dried cranberries: Unsweetened dried cranberries are great in here, the sourness works well when combined with the other sweet flavours
Dried apricots: Apricots are high in iron, so adding them into foods like this granola can be super helpful in helping vegetarians and vegans get enough iron
Dried apples: I used spongy dried apple rings for flavour and texture, freeze-dried apples would be great too if you prefer something crunchier
Shredded coconut: Shredded, unsweetened coconut adds a little flavour and nice texture to this granola
The Process
Making granola is super simple and straightforward, if you make it once, you'll see just how easy it can be. I promise, you'll never go back to those $14 boxes.
Mixing: First, mix all ingredients besides add-ins
Bake: Line the granola mixture on a baking tray, then bake. You'll know it's done when it smells amazing, and oats look slightly toasted.
Cool: Granola needs a while to cool, and it'll firm up as it does.
Add-ins: Once your granola is cool, you can add any extra ingredients you like and enjoy!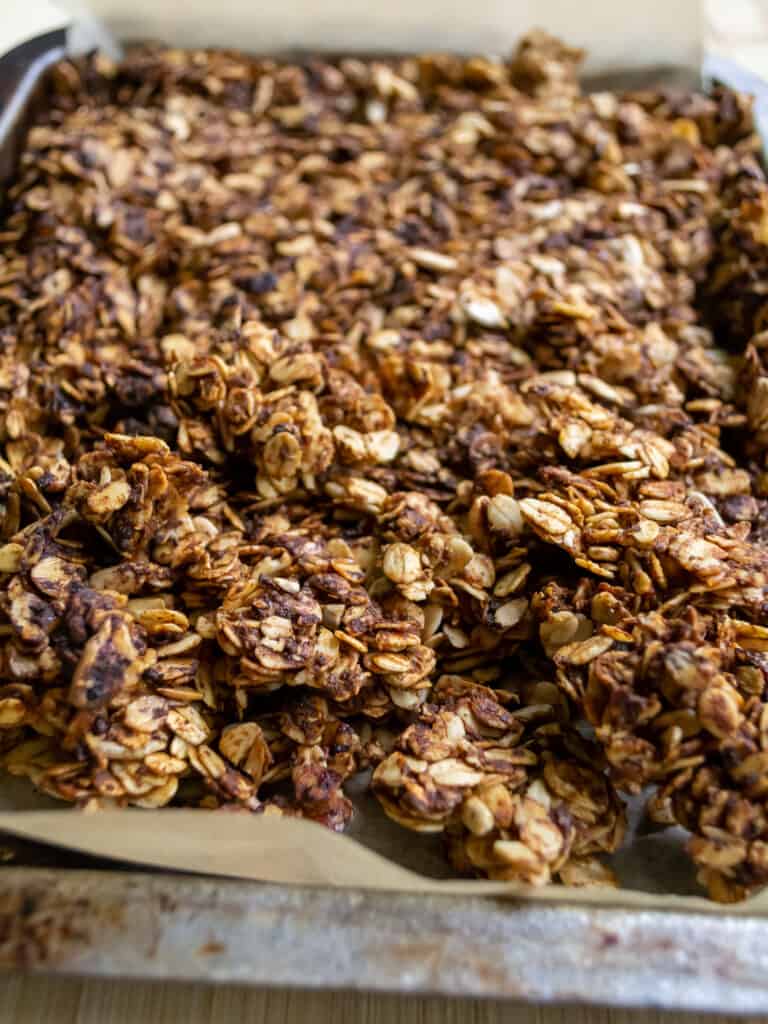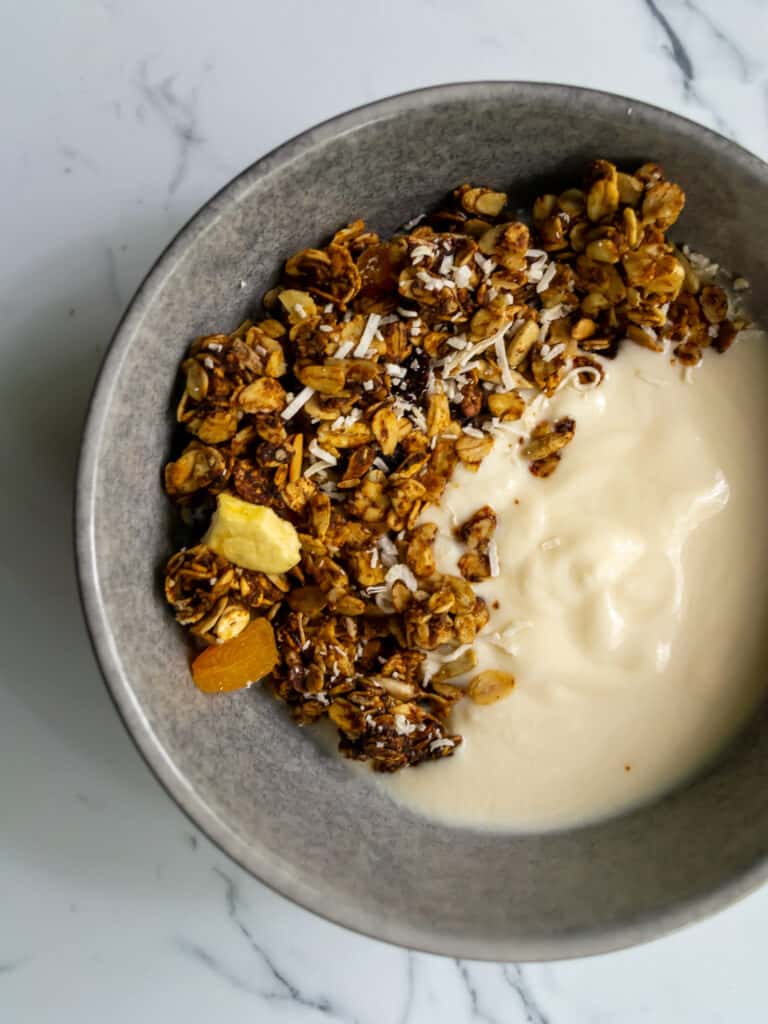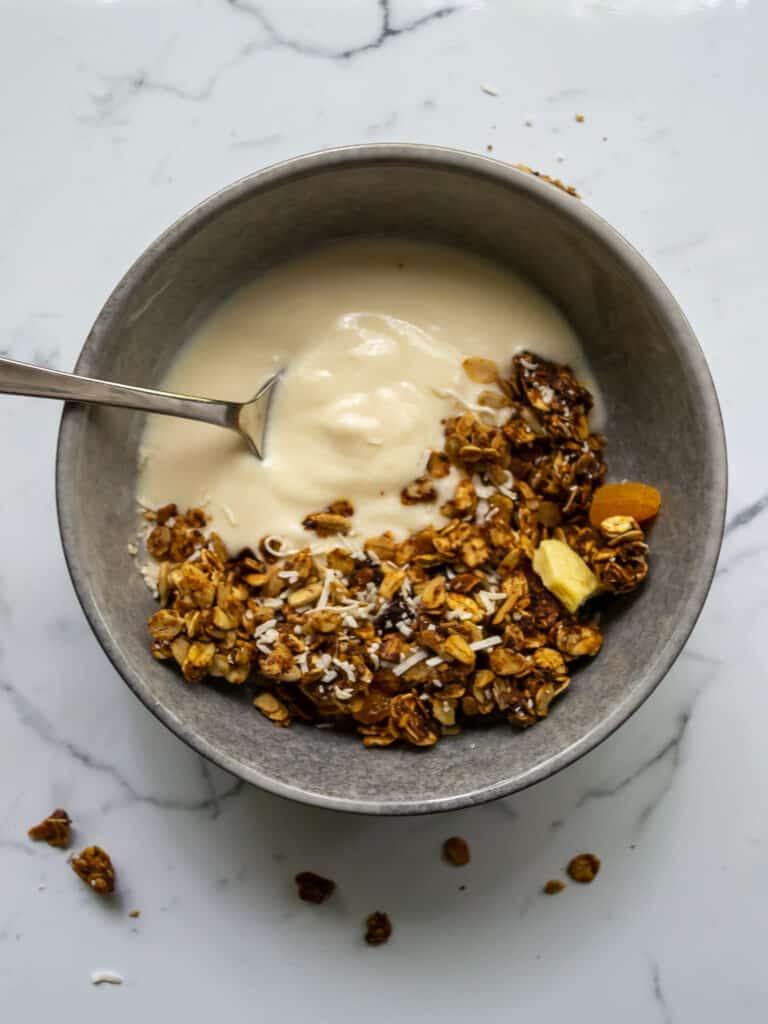 Print
📖 Recipe
Healthy Granola with Dried Fruit and Coconut
---
Total Time:

1 hour 10 minutes

Yield:

8

1

x
Description
This healthy granola with dried fruit and coconut is seriously amazing. It's great on its own, with some soy milk, or eaten on top of yogurt. Made with date syrup, it's naturally less sweet and more healthy than many store-bought granolas.
---
2

cups

rolled oats

⅓

cup

sunflower kernels

¼

cup

ground flaxseed meal

½ teaspoon

salt

1 teaspoon

ground cinnamon

½ teaspoon

ground ginger

¼

cup

liquid coconut oil

¼

cup

date syrup

½ teaspoon

vanilla extract
Add-Ins
¼

cup

dried cranberries

¼

cup

dried apricots, finely diced

¼

cup

dried apple, finely diced

¼

cup

shredded coconut
---
Instructions
Preheat: Preheat oven to 180° C or 350° F. Line a baking tray with parchment paper.
Granola: In a medium bowl, combine oats, sunflower kernels, flaxseed meal, salt, cinnamon, ginger, liquid coconut oil, date syrup, and vanilla extract. It will be slightly-sticky, so you want to make sure you mix well to ensure all the spices are well-distributed.
Bake: Spread granola mixture evenly along the parchment lined baking tray. Ensure everything is spread in an even layer. Bake in the preheated oven for 20 minutes, or until the tops of the oats begin to turn golden-brown and the spices are aromatic.
Cool: Remove the baking tray from the oven, and let it cool for 45 minutes. If you have a wire rack, you can place the baking tray on the rack to improve the circulation of air around the granola.
Add-Ins: Once the granola is completely cooled, stir through our add-ins. This granola can be stored for up to 2 weeks in an airtight container.
Prep Time:

5 minutes

Cook Time:

20 minutes

Category:

Breakfast

Cuisine:

Australian
Nutrition
Calories:

237

Fat:

12

Carbohydrates:

30.4

Protein:

5.8
Keywords: dried fruit, granola, healthy
Like this healthy granola? You should also check out: