Knowing how to spend less money on healthy food can encourage you to stick with your goals—and the savings will add up in the long run.
Oftentimes, a big barrier that keeps people from eating healthier is the fact that healthy food can be expensive. But it doesn't have to be.
Start following these tips, and you'll be surprised to see just how much you can save.
Spend Less On Healthy Staples by Buying in Bulk
Buying healthy staples in bulk can add up to a lot of savings over time. Plus, I find it convenient knowing that I always have some go-to ingredients on hand.
In addition to saving you money, bulk foods also help to reduce your impact on the environment. Because bulk foods come in — well— bulk, buying more in one pack means less packaging wasted over time. Sometimes, you can even bring your own jars to fill at bulk stores, making the process even more eco-friendly.
It's important to note that you should look for actual wholesalers/ bulk stores. Many organic/health-food specific bulk shops can actually cost more than regular grocery stores, so just keep an eye on it.
Staples you can buy in bulk to save heaps over time include:
Chia Seeds: this website has them for a great price
Beans and lentils: great source of protein to always have on hand
Nuts: good for snacking on, adding to baked goods and salads
Flours: good for baking, handy to have on hand
Rice and grains: good for having as a base to any dish
Spices: store them in smaller jars in your pantry and refill as needed
Save Money on Frozen Produce (Just as Healthy)
Another great way to spend less on healthy food is to buy frozen produce instead of fresh. Though frozen fruits and veggies are just as healthy as fresh ones, they're often a fraction of a price — ideal when you're sticking to a budget!
I use frozen produce all the time, in smoothies, stews, curries, stir-fries… I could go on and on.
Frozen foods I love having on-hand include:
Frozen berries: add to smoothies and oatmeal
Frozen spinach/ kale: you can find these frozen in small cubes, which makes them perfect for throwing into smoothies and soups
Frozen broccoli: tastes great in stir fry
Frozen edamame: perfect on its own with some flaky sea salt for a protein-filled snack or meal
Spend Less on Healthy Foods at Non-Branded Grocery Stores
Shopping at non-branded grocery stores will also help you spend much less on healthy foods over time. Stores like Aldi (in Australia), Lidl (in Europe), and Trader Joe's (in America) sell many non-name-brand items, making the groceries much cheaper.
By avoiding branded products, these stores can keep prices low, and the products are usually very similar, if not the same.
Get Cheaper Fruits/ Veg From Imperfect Produce
You can spend less and reduce food waste by shopping for imperfect produce. Some stores like Harris Farm (in Australia) and Trader Joe's (in America) do a great job of selling imperfect produce picks at prices much lower than "regular" produce. Imperfect produce is usually different in shape or size but otherwise fully normal and fresh.
Imperfect produce may be larger or smaller than the standard size sold on grocery shelves, but you can easily estimate and compensate for this when cooking.
Typically, these imperfect picks would be thrown out, since they don't meet appearance requirements. Buying them means that you can save money and stop excessive food waste at the same, win/win.
Imperfect produce I like to buy includes:
Sweet potatoes: The shape may be weird, but they still taste the same.
Lemons: Oftentimes, lemons in the imperfect section are totally fine apart from marks/ scratches on the peels. Inside, they're 100% perfect.
Eggplant: I've seen massive eggplants on sale as imperfect produce. This is ideal if you have a recipe that calls for a few eggplants— just buy one giant one instead.
Avocado: Depending on the season, you can find tiny, imperfect avocados the size of your palm. I love these for avocado toast or snacks, as one is the perfect size to use the whole thing in one go.
Save Money With Discounts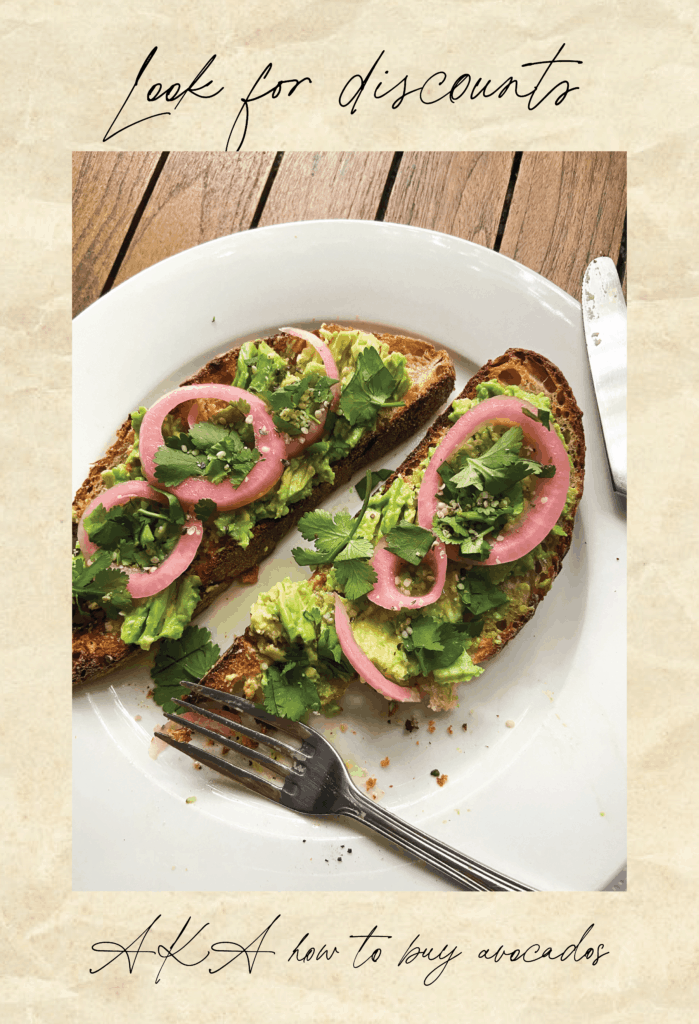 Paying attention to discounts at your regular grocery store can also help you spend less money on healthy food. Sign up for your local shop's rewards program (Everyday Rewards, Flybuys, etc) to save money while shopping, accumulate points, and be informed of the latest deals.
Everyday Rewards sends an email every week or so, showing you which of your regular purchases are on sale. Paying attention to these deals can help you know what to shop when, saving money you would've otherwise spent on these things. Over time, you can also accumulate rewards points, which give you discounts once you reach a certain threshold.